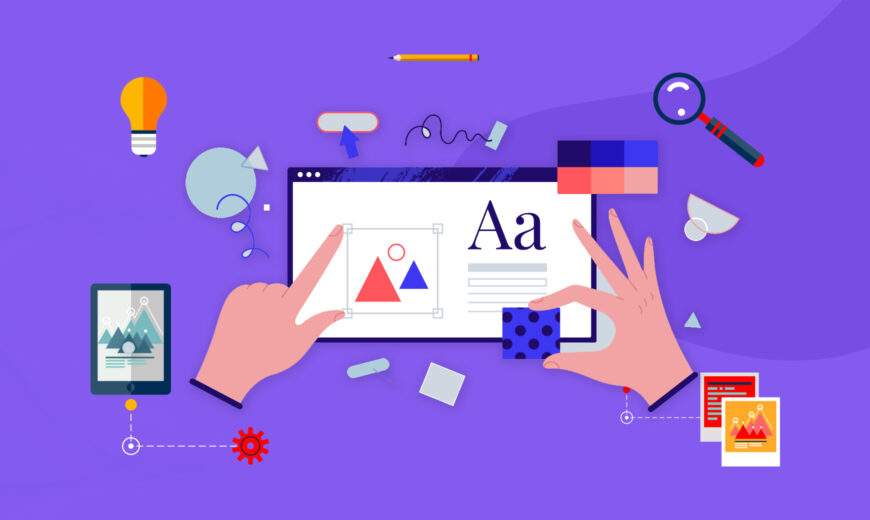 At some point of time, we all must have heard of Newton's third law of motion: For every action, there is an equal and opposite reaction. What's really interesting is, not only in scientific fields, this rule is equally applicable in several other fields as well, especially, the domain of consumer-brand relationships. For example, whenever we wish to order online for a takeaway meal (action), our immediate reaction is to think of which food chain or outlet to order food from. Every time we decide it's time to buy stationery or products for our daily requirements, the immediate response that comes to our mind is to think of the brands or the product labels.


It, therefore, goes without saying that in order to cater to a larger group of consumers on a daily basis, it is crucial to promote the products with such excellence that the visual imagery and graphic design of the brand logo and its product details get recognized by the end users instantly. The aforementioned criterion for a successful consumer-brand relationship is what signifies the importance of brand awareness and the requirement of appropriate visual content and professional graphic design methods. Without further ado, we present before you the following tips to Create Brand Awareness Using Your Creative Graphic Design Methods.
Brand Awareness: What is it and why should we care
Before we explore further, we need to begin with the basics: what is brand awareness? To cut a long story short, brand awareness refers to the degree of recognition, based on which, consumers or clients can identify a brand, its logo, and its products.

The importance of brand awareness is very crucial in determining how identifiable a brand is, to its consumers. This method is highly effective in customizing marketing methods via content and graphical design, to make sure the brand gets its distinct identity and stays memorable.

For metropolitan cities like Kolkata where a huge consumer base exists for different product categories, promoting brand awareness with the help of a creative graphic design company in Kolkata shall be a very beneficial approach in making clients get familiar and comfortable with the brand and its products, which will make the consumers come back for more and more in future.
Build your own brand identity to make a name for yourself
What is the best way to make your brand stand out from the crowd of other brands and be distinguishable? By creating a significant brand identity. Considered as the stepping stone for launching one's brand into the world of marketing and business promotion, developing a unique brand identity is very important to increase brand awareness, but it's easier said than done.


Several factors are taken into consideration such as how the name of the brand sounds, how the logo appears, how it appeals to the audience and many more. This is why, application of professional graphic design methods is an indispensable factor in developing brand identity as a brand logo is not just a random image, but it encases the face value of the brand in it as well. The following points must be kept in mind while designing a distinctive brand identity:


A. Make sure that a graphic design creates a lasting impression on the minds of the consumers (this is very important especially for the designers in densely populated cities, for example, the creative graphic design company in Kolkata). Because many more brands shall be emerging with time, therefore, the design of the brand has to be subtle, yet significant.


B. It needs to be kept in mind that the brand logo may be subject to change in color, or its features, over the course of time, during special editions and other important occasions. Therefore, the brand logo must be designed accordingly to be flexible and versatile as well.


C. The graphic design has to be simple, and not overcomplicated. Simpler images are easier to remember for consumers, and also easier to create by the designers. Furthermore, the more complex the logo appears, the more it gets difficult to explain and to understand how the design relates to the brand name or brand objective.
After establishing brand identity, time to increase brand awareness
Just like nurturing the growth of a plant is as important as the planting of the seed, similarly, ensuring an expansion of brand awareness is highly important after successfully establishing brand identity.
Once the objective of the brand and the target audience to approach are determined, it is important to make sure to increase the reach of the brand promotional activities, to attract a larger number of interested clients. Following points, if adhered to with diligence shall prove to be highly effective in expanding brand awareness to new heights:
Keeping oneself constantly updated with the branding method of competitors and rival brands. This will help in coming up with better brand awareness methods, after analyzing the pros and cons of the similar methods used by others.

Highlighting appreciations and positive reviews of the shareholders will encourage a greater number of clients to invest and in turn, further expand the brand awareness.
In this tech-savvy modern world where promotional events of a product largely determine the success of a product, the importance of advertisement of the product through graphic design methods is largely similar to that of a movie trailer: giving the consumers a first look at the product and what they can expect from it. And not only the promotional event, but the repetitive visual display of the products using professional graphic design methods is what will solidify the brand logo and the product details in the minds of the interested buyers.


Brand awareness is also what largely influences the brand value of a company. Brand awareness is also a strong indicator of how much faith the consumers have put into the brand. Therefore, a carefully planned strategy of spreading brand awareness using graphic design will be a significant move in spanning a legacy of a highly profitable consumer-brand relationship.