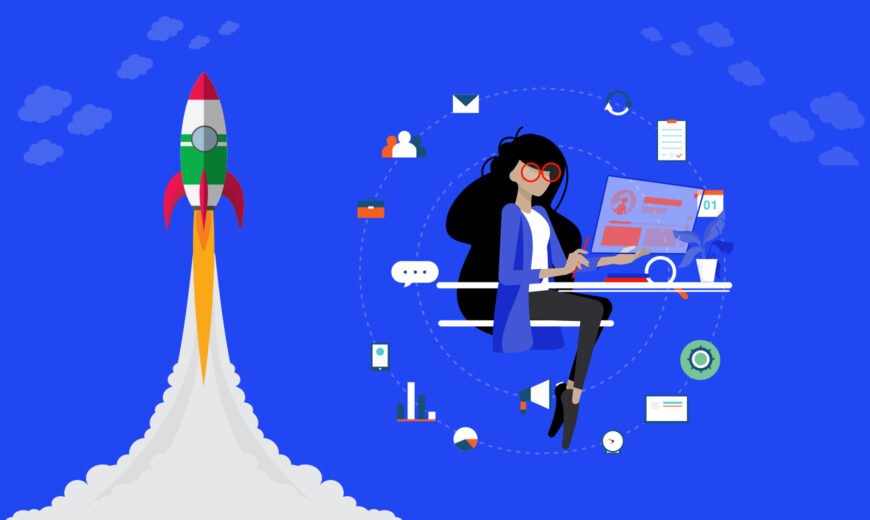 As a student, we have heard this quote "extra marks for good handwriting"…Well, how about writing some extra words for good marketing?
From the pages in newspapers to the magazines to podcasts – almost everything we read or go through in our daily lives, contain some sort of promotional piece of writing or advertisement with such intriguing content and a good selection of words, that it is bound to draw our attention at the product which is being promoted. This method of involving customer engagement through well-written promotional content has always been a key factor in selling products, engaging the target audience to view the products, marketing which in turn has a positive impact on the profitability of the product. This art of persuasion of readers to take an active interest in the product, and ensuring a profitable business venture, is what's known as 'copywriting'. However, just like a person who can kick well can't necessarily be a good footballer, similarly, not everyone who can simply write can be a good copywriter. This is why, we bring before you an elaborate bundle of information about what is copywriting in marketing, and how to become a skilled copywriter.
Give The Readers The Answer To Their Problems, And You'll Have Their Attention As A By-Product As Well
The immediate thought that comes to mind after selecting the target audience, is how to attract their attention and make them go through the entire content without leaving midway.

Having a large base of readers in metropolitan cities like Kolkata bustling with consumers, this strategy is a key feature for the

best copywriting company in Kolkata. Let's face it: why will someone be interested in a promotional piece of writing, unless it has something to offer them?

Therefore, the ability to find the solution to a problem, that the target audience is seeking for, is what makes a good copywriter. Writing a copy that relates to the scenario of the readers, is a key aspect of copywriting, making the reader realize that this is the content that they were looking for.
Specializing Your Domain For Copywriting
Believe it or not, the different types of copywriting were, are, and will always be in the market for persuading clients to invest or have a look at their products.

But the competition among flexible writers who can write articles on all topics is very high, and the net result being most of them not understanding the concept of what is copywriting in marketing, and writing copy that barely touches the surface of the topic, as it is not possible to specialize in copywriting for every domain.

Thus, instead of becoming the jack of all trades, master of none, it is better to pinpoint or label the domain you wish to write for, and brush up on your skills for that domain. The demand for writers who can write for specific categories such as finance, commerce, legal obligations etc. will always be high, and therefore, holds a lot more opportunities for copywriters to rise and shine.
Create A Bond – Not Only With The Readers But Also With Your Recruiting Company
Irrespective of the remarkable writing skills possessed by the individual copywriters, there are some common traits shared by them all, which includes taking an active interest in the growth and welfare of the company for whom they are writing.

Building a relationship with the recruiting brand not only forms a healthy bond between both parties but also allows the copywriters to understand the goals and the big picture the brand is looking for.

This allows them to customize their copywriting techniques and shape them in a way that includes all the objectives that the company wishes to cover. Needless to say, this opens the doors of several copywriting projects with the same company in future as well.
Plagiarism: A Big NO NO!
Remember, copying content from other sources is something that can be easily detected, thanks to the internet, and experts checking the authenticity of the content. Ensuring that the content made is 100% original, is a key component for good copywriting.

Taking inspiration for related content or copies is fine, as long as you can incorporate your originality into your copy. But it has to be kept in mind, that copying from other sources, and writing content that is to be copied and reprinted for product promotion (which is exactly the reason why is it called copywriting), is completely different and unrelated.

Also, once a copywriter is being caught for using malpractices, it not only closes the door for many prospects of the copywriter but also tarnishes the reputation of the company who recruits them, marking them as someone who recruits copywriters using unfair means to promote their business growth.
The Demonstration Is As Important As The Execution
A sample piece of content writing is something very important that gives the recruiters a glimpse at the writing style of the copywriter and makes them discuss modifying it according to their requirements.

Also, writing a sample piece of work makes them get a better idea of whether the copywriter is capable of producing quality content, and meet the deadline of submitting them.

This is what makes a good copywriter stand apart from the rest, since they put as much effort into their sample content, as they put in standard content because the first impression matters a lot. It is a lot like creating a prototype that needs to be analyzed, scrutinized and brushed up to create a better-finalized product.
The proverb "a pen is mightier than the sword" is highly applicable because, in today's world, the power of writing is far stronger than the power of fencing, when it comes to promotional events, marketing, and solidifying the success of business ventures. A proper framework of copywriting, by following the aforementioned points, will pave way for successful business ventures, and many more upcoming brand-copywriter collaborations – something which both parties will benefit from, and will look forward to.